Freedom Healthcare is here to help
Hide
What is bioidentical hormone replacement therapy?
As the body gets older, its natural production of hormones decline. This results in symptoms of aging such as chronic fatigue, insomnia, loss of bone density, weight gain, a decrease in muscle mass, low libido, moodiness and migraines. Freedom Healthcare treats patients with bioidentical hormone replacement therapy (BHRT). This treatment uses hormones with exactly the same chemical structure as the hormones the body naturally produces. BHRT reduces side effects because bioidentical hormones are indistinguishable from your body's hormone receptor sites. 
What are hormone pellets? What does hormone pellet insertion entail?
Hormone pellet insertion is a relatively simple in-office procedure done under local anesthesia. After numbing the area, pellet insertion is done subcutaneously (under the fatty lining of the skin), either in the lower abdomen or the upper buttocks through a small incision. A FHC practitioner then seals the incision with surgical glue or sterile-tape strips. The implants under the skin consistently release small, physiologic doses of hormones which produce positive side effects.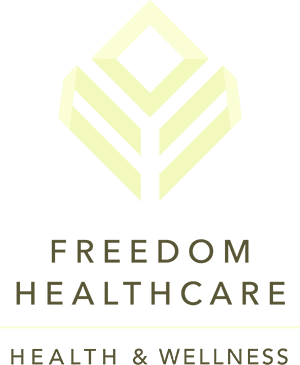 8899 S 700 E
Suite #250
Sandy, UT

The right nutrition can make all the difference. That's why Freedom Healthcare partnered with Metagenics.