Reward Programs


From Freedom Healthcare
To give back to incredible patients, Freedom Healthcare utilizes a referral program. Anyone who refers a friend to Freedom Healthcare and their referral completes a new patient consultation, can select one of three FREE options:
+ Details
This amazing product (spray) combats anxiety, enhances sleep quality and mood by improving the function of all fourteen serotonin pathways.
FREE


EMSELLA Session
(available at the Sandy location)
+ Details
The EMSELLA chair improves sexual wellness and reverses urinary incontinence in a noninvasive way. The chair uses electromagnetic energy to cause thousands of Kegel-like contractions. The EMSELLA Chair causes deep pelvic floor muscle stimulation and restores bladder control. This treatment is noninvasive and takes place without undressing. The procedure simply requires you to sit in a chair for 28 minutes. Scientific research shows 95% of EMSELLA patients have reported significant improvement in their quality of life.
check out this video
EMSELLA Chair: A Non-invasive, Non-surgical Treatment for Urinary Incontinence
FREE


Gainswave Session
(available at the Sandy location)
+ Details
GAINSWave treats the root cause of erectile dysfunction (ED) in men by increasing blood flow, releasing growth factors in the tissue, forming new blood vessels and breaking down micro-plaque in the penile vasculature. This procedure uses high-frequency acoustic pulse wave therapy to treat ED.
GAINSWave is the only non-invasive procedure that:
Improves Sexual Performance
Increases Sensation
Enhances Erections
Treats ED & Peyronie's Disease
check out this video
About GAINSWave: A Non-invasive, Non-surgical Treatment for Erectile Dysfunction
Freedom Healthcare is passionate about providing individuals with personal and true healthcare. The FHC team wants to give everyone the opportunity to be a part of the clinic's health community on social media and experience a transformative approach to health.
Follow Freedom Healthcare at:
The InBody composition scan consists of:
Body Composition Analysis
Muscle-Fat Analysis
Segmental Lean Body Mass Analysis
Fat Mass Analysis
Intra and Extracellular Water Analysis
* Only one free scan per patient.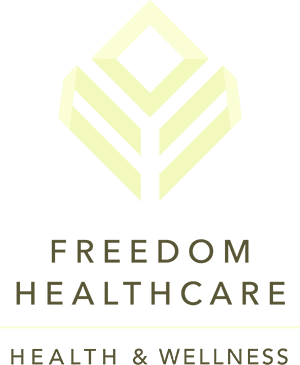 8899 S 700 E
Suite #250
Sandy, UT
3080 N 1700 E
Suite B
Layton, UT 84040
Freedom Healthcare
South Ogden
1893 Skyline Dr.,
Suite #204
South Ogden UT 84403

The right nutrition can make all the difference. That's why Freedom Healthcare partnered with Metagenics.